On Saturday October 22 we held a rally to save the #Manhattanville projects in West Harlem, in the parking lot that was recently sold by #NYCHA to a developer for a 26-story luxury condo tower to be built in the middle of the project. This is part of the #PACT privatization scam.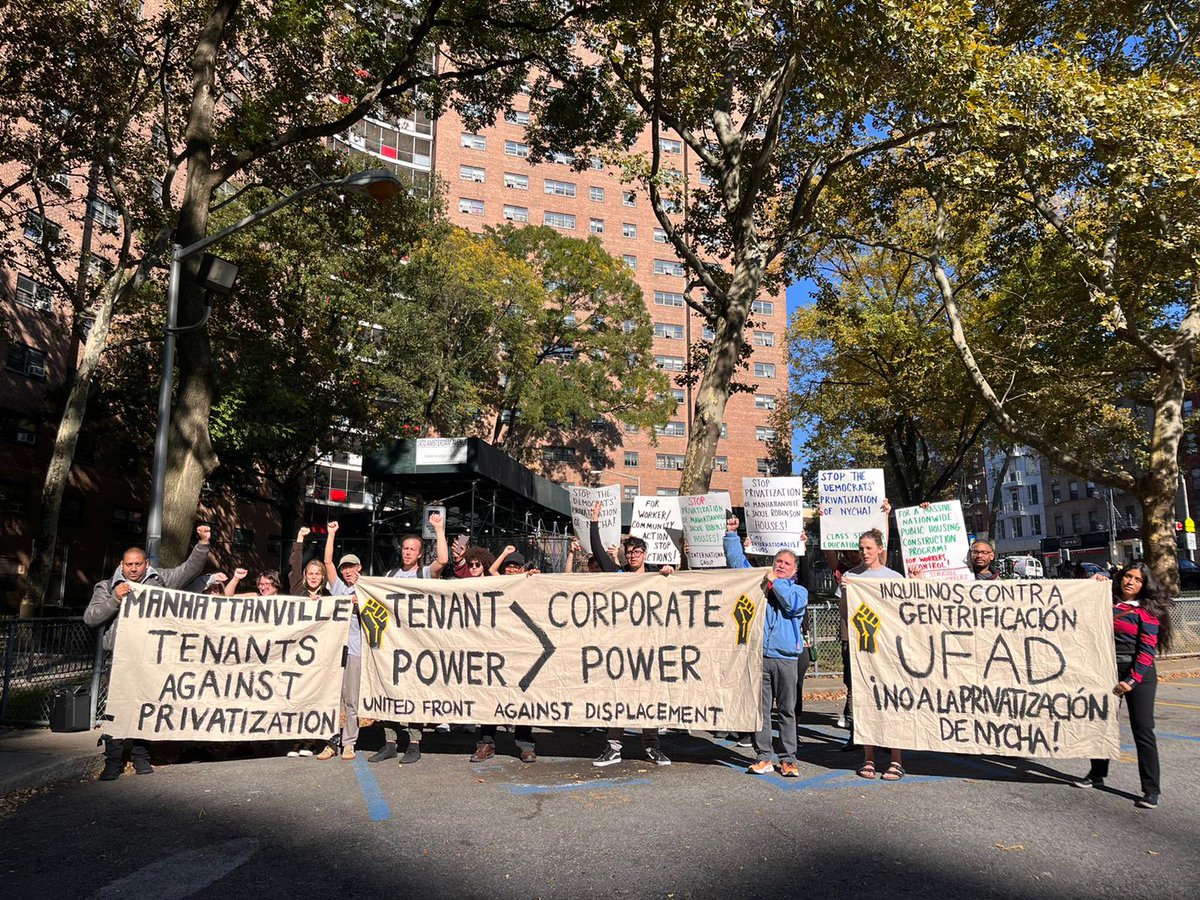 NYCHA took this parking lot away from Manhattanville tenants for this luxury development. It also recently closed a tenant community room in one of the buildings, 1470 Amsterdam, with no explanation. Tenants won a fight to have the room reopened last year for the residents.
Columbia students Sydney and Sophie spoke about the need for students to join in people's struggles, including the fight against Columbia's gentrification of Harlem and the privatization of NYCHA
To end our protest, we walked over to Columbia's "Manhattanville campus" a few blocks away at Broadway and W 125th where the university was celebrating its destruction and gentrification of Harlem with its so-called "Manhattanville community day"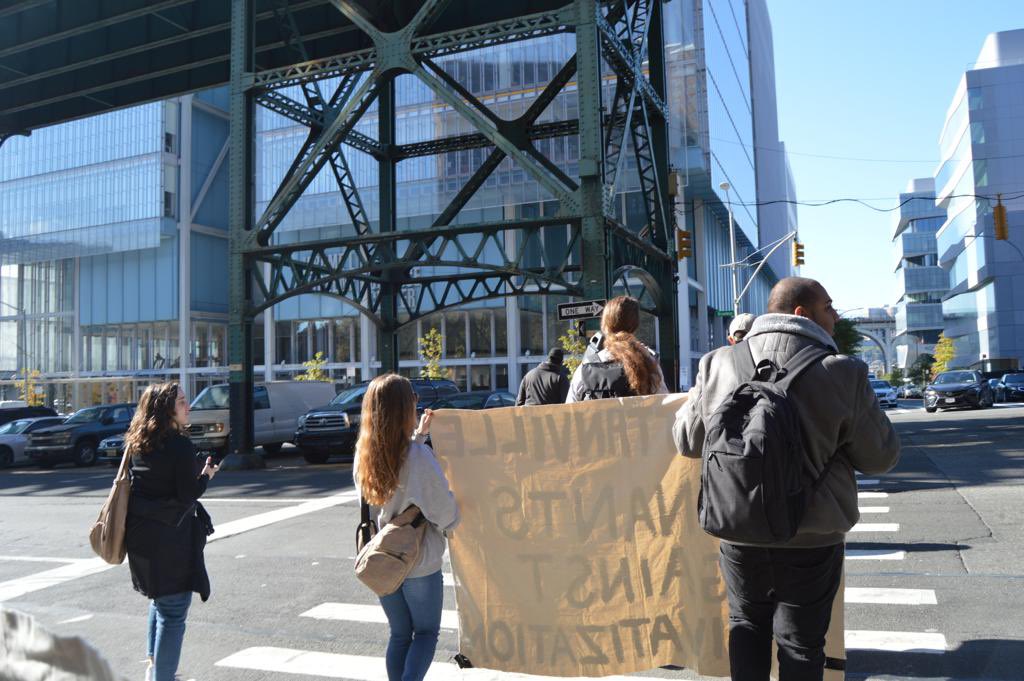 Ryan spoke about Columbia's predatory expansion throughout Harlem, including by using eminent domain to evict tenants and businesses to pave the way for this "Manhattanville campus." We also read our demands for Columbia from our last protest:
http://theufad.org/stop-columbias-gentrification-of-harlem/
Matthew, a Manhattanville resident, said to Columbia: "you're not doing a damn thing for Manhattanville Houses!"
Ivan, in the first photo, has lived at Manhattanville for nearly 60 years and was involved in previous struggles against Columbia using eminent domain for its expansion schemes (photos by @ halide.hustle on Instagram)
Originally tweeted by The United Front Against Displacement (@TheUfad) on October 26, 2022.
---
Where: Parking lot between 1440 and 1470 Amsterdam (between W 133rd and 131st)
When: 1:00pm on Saturday, October 22, 2022
This Saturday, October 22, Manhattanville residents will protest NYCHA handing over the Manhattanville projects in West Harlem to private developers and corporations, which will lead to tenants being displaced and the neighborhood being gentrified.
First, NYCHA announced the PACT privatization scam to hand over Manhattanville to a private corporation. These private takeovers of NYCHA make things go from bad to worse, as Human Rights Watch detailed in their 98-page report "The Tenant Never Wins". They describe how tenants are systematically displaced and disenfranchised in the process of privatization of NYCHA, and found that at some recently privatized developments, the eviction rate was up to three times as high as the NYCHA average.
As part of the PACT plan, NYCHA sold air rights and part of Manhattanville to the private owner of 1440 Amsterdam, where there used to be a grocery store and laundromat that burned down. The lot had been vacant for years, but NYCHA decided this year to allow a developer to build a 26-story luxury condo tower, right in the middle of Manhattanville. This building will tower over the projects and pave the way for further gentrification of Manhattanville and Harlem. Just recently, NYCHA took the parking lot next to 1440 Amsterdam away from Manhattanville tenants for this luxury development.
And now, NYCHA has closed the tenant patrol room in the 1470 Amsterdam Manhattanville building, with no explanation. In previous decades, tenants held programs for kids, seniors, and the community in the Manhattanville tenant patrol rooms. After tenants in 1470 Amsterdam fought for years for NYCHA to reopen it, they reopened it last year and tenant leaders have run programs for Manhattanville residents since. Then out of the blue last week, NYCHA told tenants that it was closing the room indefinitely.
Manhattanville tenants, many of whom have lived in the projects for 60 years, have had absolutely no say in any of these decisions, which serve the interests of the developers and corporations and not the tenants. Manhattanville and other NYCHA tenants have organized against these outrages this year by confronting NYCHA officials at PACT privatization meetings, holding protests at Manhattanville and City Hall against the privatization of NYCHA, and protesting at Columbia University against Columbia's gentrification of Harlem.
On August 16th, tenants sent petitions opposing the privatization of NYCHA and the luxury tower at 1440 Amsterdam, signed by 218 tenants of Manhattanville Houses, 74 tenants of Jackie Robinson Houses in East Harlem, and 81 community members, to elected politicians and city leaders. Since then, we have received no response from NYCHA and the politicians. So tenants confronted politicians including Manhattan Borough President Mark Levine and State Senator Cordell Cleare at the African American Day Parade in Harlem. The few politicians who said they would support NYCHA tenants' fight against privatization have since ignored us after we asked them to release a public statement. We recently posted this video from the parade and how politicians have left NYCHA tenants out to dry in the face of privatization.
For more information, contact the United Front Against Displacement.
Email: nogonyc@riseup.net, Call/text: (646) 450-3880